Recycling Solutions
Shredder Solutions
Recycling of 1200 liter IBCs
Rapid Raptor FlexiPUSH (pneumatic pusher system).
Top pusher to compress the containers for efficient granulation and higher output/capacity.
"Pallet turner" for automatic feeding.
Machines in the example:
Rapid Raptor 1350 FlexiPUSH.
Top pusher and pallet turner.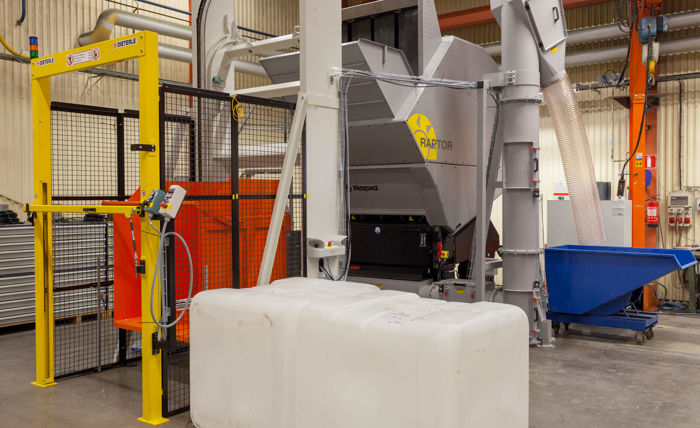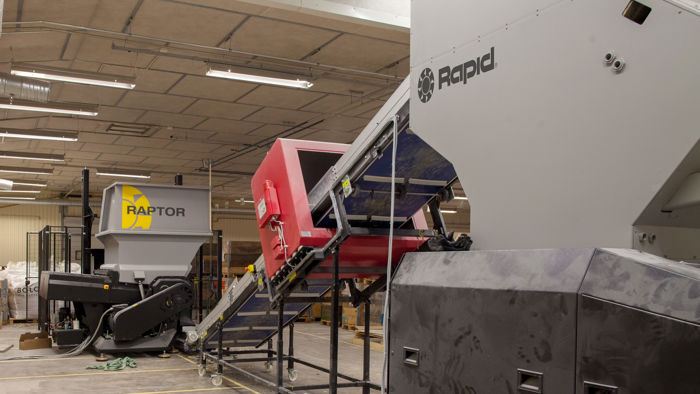 Grinding of waste from carpet manufacturing 
Rapid Raptor 1350 PowerPUSH (hydraulic feed). 
Pallet turner for efficient feeding to shredder. 
Conveyor belt with metal detector between shredder and granulator. 
Open-Hearted Rapid 600 series granulator for granulation of shreds from Raptor 1350. 
Material Transport system for automated evacuation and collection of regrind. 
Dust separation system.  
Machines in the example: 
Rapid Raptor PowerPUSH. 
Rapid 600-90 Open-Hearted granulator.